The aquagold device microchannels (or precisely delivers) through 24K gold needles, active ingredients to targeted areas of skin. Botox, filler, PRP, medical grade hyaluronic acid and/or mesotherapy products can be delivered to every pore using this device. Since all of these products can be combined, an aquagold facial offers completely customizable solutions to treat each individual's concerns. This facial offers pretty much every treatment modality in a single session- neurotoxins, fillers, PRP, mesotherapy and microneedling! The best part is that you get instant results (filler), results one week later (botox), further results in about one month (PRP) and ongoing results for several months (microneedling)!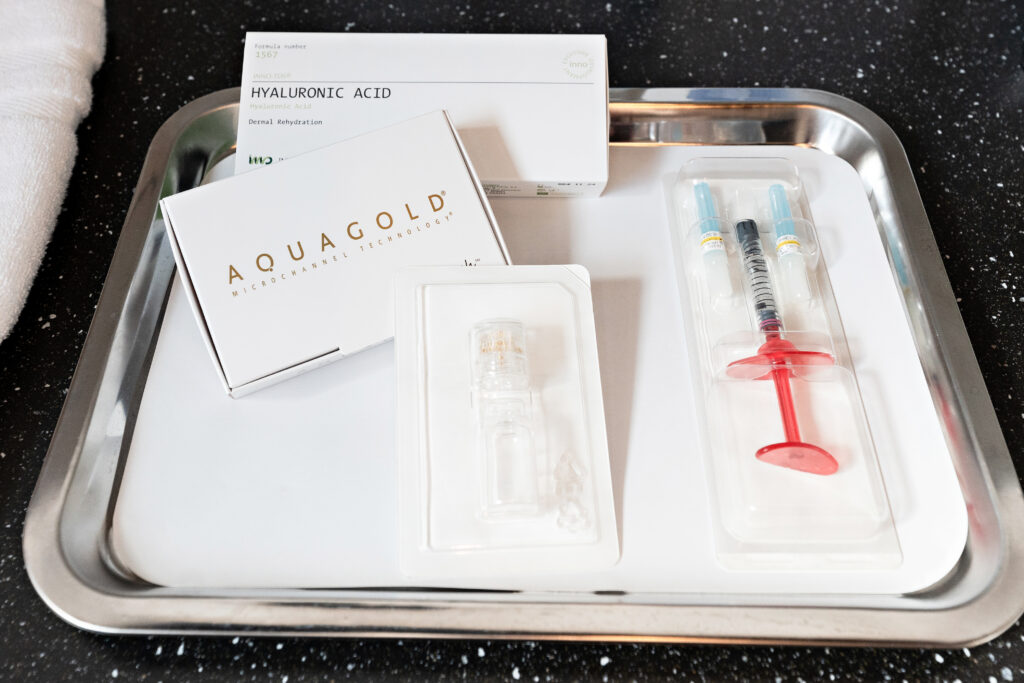 Provide a detailed and accurate medical history including medications, allergies and previous aesthetic treatments/complications. 
Avoid tanning, hair removal, sunburn and active skin care ingredients such as retinol immediately prior to treatment. 
Cancel your appointment if you are acutely ill. 
If possible, please come to your appointment with your face make-up free and freshly washed. 
What To Expect At Your Treatment
Your provider will begin with 'before' photos and will review steps, expectations and instructions. Your face will be cleansed, exfoliated and several serums and moisturizing products will be applied.
During medical facials, clients usually feel slight tingling sensations but there should be no discomfort.
Immediately following treatment, you may experience mild redness which typically resolves within a few hours.
Clients use a small amount of moisturizer specifically formulated for post-procedure care and must wear sunscreen to protect their skin after treatment.