Retroderm Medical Aesthetics specializes in professional, clinical treatments to optimize the look and feel of your
skin and hair!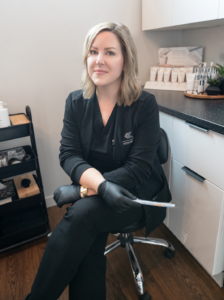 Hi! I'm Hali and I'm the owner/operator of Retroderm Medical Aesthetics. I have over 20 years of nursing experience and have been working as a primary care nurse practitioner for 11 years.
I am a graduate of St. Clair College (Diploma Nursing Program), the University of Windsor (BScN), Athabasca University (Master of Nursing and NP Certificate), and recently obtained my PhD in Nursing from Walden University in 2000.
I have completed my initial aesthetics training at the Canadian Board of Aesthetic Medicine and have been committed to ongoing aesthetic education ever since to stay on top of the latest quality products, industry research and expert techniques.
I started this business with the intention to offer quality, ethical aesthetic care with a comfortable, professional medical setting. My aesthetic practice is founded on principles of professionalism, privacy and customer service excellence. My goal is to achieve the results you desire while maintaining a natural look that can "bring out the best version of you"!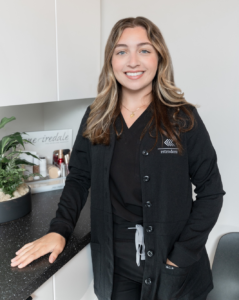 My name is Isabelle and I am an Aesthetic Registered Nurse at Retroderm. I am a graduate of the University of Windsor (BScN) and also currently practice in Emergency Nursing.
I have obtained the fundamental medical aesthetics courses and have since grown a passion for helping others enhance their natural beauty with our clinical treatments. Over the last year, I was mentored by Hali Sitarz, NP at Retroderm.
I enjoy providing our clients with thorough and personalized care plans for their tailored aesthetic goals. My mission as an injector is to always encompass a safe, precise, confidential and professional environment while focusing on the vision of the client. I specialize in a wide variety of services offered here in the clinic including neurotoxins, dermal filler, PRP (platelet rich plasma), and chemical peels to name a few. I look forward to having the opportunity to help you along your aesthetic journey!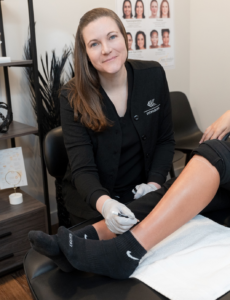 My name is Laura and I'm a Certified Laser Technician at Retroderm.
I've worked in various customer service positions for over 20 years but recently felt it was time for a change to a more fulfilling career. I love being a laser technician and helping my clients gain self-confidence!
I will take the time to understand every unique concern and provide personalized treatment plans that deliver exceptional results. I look forward to meeting and working with you soon!
Our clinic is a medically-orientated and gender-neutral space intended to maintain standards of hygienic practice and to be comfortable and accessible for all clients to attend. We feel strongly that medical procedures should be ethically suggested and as minimally invasive as possible. As part of our care commitment to our clients, our treatment recommendations are always done without pressure and we encourage our clients to collaborate in their care by asking questions and taking all the time they need to make treatment decisions. 
Partnered with Float Lakeshore and Sky Blue Esthetics Inc., we are Belle River's premiere full-service aesthetic and wellness practice! Visit www.floatlakeshore.ca and https://skyblueesthetics.ca for more information.