My Journey Into Medical Aesthetics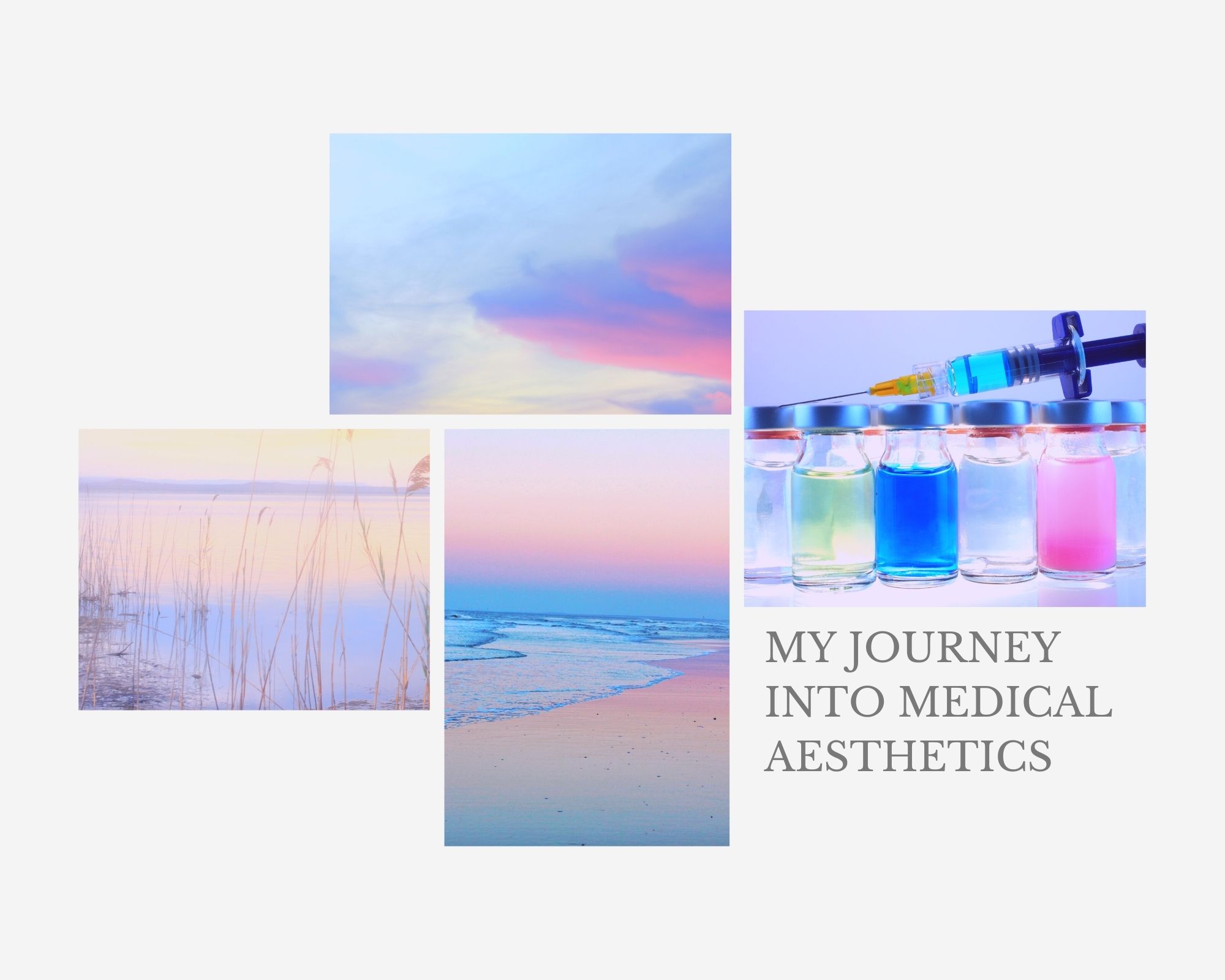 About five years ago I became interested in medical aesthetics after the first of my friends got Botox. I found her explanation of the process, the results and her nurse injector very intriguing. Knowing little about medical aesthetics and being a bit of a beauty-naiive person myself, I continued to learn more and my interest grew with it. I thought often about the freedoms and opportunities that would come from being self-employed. I understood it was a lucrative practice too. Of greatest interest to me was to be able to help people feel better about themselves, something that is a major challenge in my current nurse practitioner role.
I work with adolescents with eating disorders and other mental illness. It's a role I love for so many reasons- teenagers are my favourite, I feel like my work is meaningful and my employer is the best I've ever had. However, constantly fighting the power of eating disorders, mental health stigma, and the many limitations of the health care system can get a girl down. A lot of this job is dark and while there are many sunshiny moments, I rarely have the pleasure of making people feel better about themselves. As cliché as that is, it is important to me for job satisfaction.
When looking at medical aesthetics as complimentary to my current role or to someday replace it, this field seemed to be an opportunity to balance the joy and challenge of nurse practitioner practice but I could not help but feel like a traitor.
I mean, how can you tell people with eating disorders that they are good enough as is one day and then help people modify their appearance to achieve satisfaction the next?
 This worry plagued me for years and so I set my interest in medical aesthetics back up on the shelf and I continued on in my eating disorder role- loving it and fighting it all the way. It got pretty dusty on that shelf over the next four years and although I thought about it a lot, I decided that the hypocrisy was not something I was willing to compromise on.
Another doubt  I has was if I was of the right "aesthetic" for the job. I am not the person one would conjure up in their minds of what a stereotypical aesthetic professional may look like. I am what I would like to think of as an "average" person, with a standard natural appearance- nothing cringe-worthy but nothing show-stopping either. I take a certain amount of pride and put a certain amount of effort into my appearance but with two jobs, school, a home and two kids on my plate, "certain amounts" has become a little foundation and mascara to jazz up my sweatpants. I also struggle with some acne and significant rosacea so my skin is far less than perfect. At that time I had not had any "work" done aside from eyebrow microblading. In my brain all of this culminated to a sinking feeling of inadequacy and worries that my imaginary clientele would be disinterested in having a plain-jane, wrinkled and red, tore up mom-type advise them about how to improve their appearance.
Enter a global pandemic and the immense boredom that came with it! To hang on to the shred of normalcy (and sanity!) remaining during that crazy time, I started to watch several webinars for professional development purposes. Following a series of oddly interesting overactive bladder discussions I came across a webinar about medical aesthetics practice facilitated by two European physicians. I attended, feeling somewhat guilty but also very excited to be learning about aesthetic medicine but also to move the conversation above the belt for a change.
The first plastic surgeon epitomized the stereotype about medical aesthetic professionals. He was a lean, tanned, dapper, charismatic Parisian man zooming from his hotel room in Dubai. Throughout his talk I was distracted by two things- first, his statuesque girlfriend in the background wearing only a tiny satin robe, flitting around on the balcony (true story- I couldn't make this up if I tried!) and second, the ridiculously overdone appearance of all of the 'after' photos he was showing- duck lips, faces stretched/plumped to the max, and unrecognizable 'before' photos. This presentation re-enforced all of my concerns.
Then, the next physician came on Zoom, live from his humble little country kitchen in the UK, wearing a sweatshirt , crooked glasses and contradicting everything said before him. At first it was exciting to watch this seemingly ordinary man take on Dr. Chippendale but soon what he was saying became much more intriguing to me. This physician touted only natural looks and argued that ding so was the only way to practice medical aesthetics ethically. He described ethical practice as treating clients minimally and educating them about the least invasive/intensive treatments to achieve natural results. He also advocated for clients to be screened for body dysmorphia (a psychiatric condition by which an individual believes their appearance is severely flawed, often leading to obsessive intervention to modify the appearance) and when present, referred to psychiatry instead of being treated aesthetically.
Clearly, I logged off the Zoom call and googled this man immediately. To my surprise and relief, he runs an immensely successful practice despite having an average appearance himself and limiting his interventions to only those necessary to enhance or restore natural appearance. From his website and blogs, I also learned that he was so adamant about the focus on natural appearances that he has devoted a large portion of his practice to dissolving dermal fillers placed excessively by other professionals. The moral of this story is that common sense finally came out in front of my irrational self-conscious mind to teach me that a health care professional with a natural look can be a good person to suggest the same to a patient and that helping people improve their appearance, within the confines of normalcy, can only improve their confidence, not tear it down.
This was my 'a-ha' moment. Dr. Wonderful's approach was a very clear solution to my moral distress surrounding medical aesthetics! I decided at that moment that I could help people address concerns about their appearance, while maintaining their natural appearance and not crossing any boundaries of unhealthy body image. From here, I modelled my future practice plans around the advice from this very wise and very admiral physician. "Look your best but still look like you," was born of this philosophy and is an important commitment I make to my clients.